In the top line of this page I dated the Cranes 1937 - 1957. In 2008 I found a 1930 Tri-ang catalogue with three earlier Cranes. Now, April 2009, I almost sure Tri-ang
made these Cranes before 1930.
Why? The 1930 and later Cranes have 3 or 6 side windows. The very early Cranes however had just one window. The 1930 catalogue is List as No.25.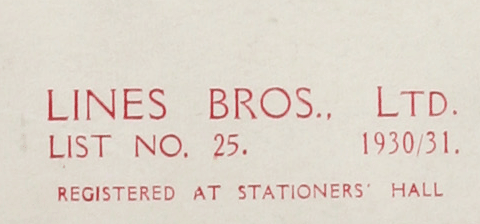 So there must have been 24 (!!) catalogues listed before 1930 and the first catalogue must have been published in 1906. Let's have a look at the Cranes Tri-ang made during the years.
1930
Introduced in the early '30 ties of the last century, Tri-ang released three different Cranes in the
ALL STEEL SERIES . A No.1 ; a No.2 ; and a No.3 All models were stoved enamelled red, with a black under- carriage. The partially unbreakable joints were welded together. The Cranes were fitted with disc wheels. Only No.3 had rubber tyres.
No. 1 (a)
The No.1 Crane is the smallest of the All Steel Series with a Length of 21 cm, Width 19 cm and a Height of 23 cm. As said, I'm almost sure the below Crane with one side window is made before 1930. It has a red wooden roof, includes chain and hook, turned wooden wheels, with "Triangtois" logo to roof .34cm high.
No. 1 (b)
After 1930
To keep the boom in place Tri-ang used a chain as well as solid steel bar. ( see the black arrows)
No. 2
As with the number one., I'm almost sure the below Crane No.2 with one side window is made before 1930. The No. 2 is larger than No 1 and has 6 side windows.
Length : 38 cm, Width: 21cm, Height: 28cm. This Crane No.2 was produced till 1957!!!
| | | |
| --- | --- | --- |
| | | |
No. 3
Crane No.3 was produced till 1940. The below sample is earlier. It has a Tri-ang plate on the roof.
Length : 47 cm, Width: 28cm, Height: 29 cm.
| | | |
| --- | --- | --- |
| | | |
1930
In 1930 the Lines Bros increased the Crane Series with a simple Dock Crane
1937 - 1938
In 1937 the Lines Bros changed the shape of the Dock Crane
1947
Just two models remain after the war. No. 1 and No.2
| | | |
| --- | --- | --- |
| | | |
1955
In the mid 50 ties of the last century Tri-ang introduced a new range of cranes and other steel built working scale models. An Excavator , two Job cranes and the famous Jones K&L 44.
Tri-ang Excavator No.2
The first Excavator was generally similar to the No.2 crane. It was fitted with a mechanical shovel with a manually operated release.
I thought you might be interested to know that I have a book called "The Earthmover Encyclopedia" by Keith Haddock (currently available on Amazon). On page 221 there is a nice black & white picture of a (British) Rapier 423 excavator & after a short description the author continues "Toy collectors will recognize this machine as the !:25 scale model Triang Shovel of the 1950s". It is nice to see this information in a book about "real" machines & also nice to know that the model is accurately based on a real machine.
Hoping this is useful, Regards, Trevor Findley.
Tri-ang Excavator No. 300
This new Excavator was more detailed with 7 controls for slewing, boom hoisting, "crowd" control, shovel hoisting and bucket discharging. It was mounted on a track laying chassis with rubber crawlers. It is a pity that (again) Tri-ang used rubber of a bad quality. Most of these are perished
| | | |
| --- | --- | --- |
| | | |
How to make Tri-ang Excavator tracks
Colletor Trevor from England made great replacement tracks for the excavator!
Trevor was so kind to share his solution with us:
The tracks are made as follows. I bought a square metre approx of rubber sheet which has a ribbed pattern across it, from ebay. Strips of the necessary width are cut off the rubber sheet. These are wrapped around the wheels to get the length then I cut the strips across at right angles to the track but with a bevelled cut. This gives a bigger glueing area. (I hope that makes sense). The ends are then simply superglued together. If they are not quite right they can be cut & re-glued or just start again. Don't make them too tight!
This process is perfectly adequate for display & light use - the tracks will roll quite happily if they are not too tight & the joins have not parted.


Trevor, thanks for this information
New Zealand Tri-ang Excavator
The Excavator was also produced in New Zealand. My Australian friends and enthusiast Tri-ang collectors Michael and Tracey sent me these photo's.
Super Jib Crane

Tri-ang gave this description : A fine new model incorporating track laying chassis with rubber crawlers with a folding jib. Ratchets operated hoisting gear and lever operated jib.
Mobile Jib Crane
This Jib crane is similar in specifications and construction to the above Super Jib Crane but fitted with a 3 wheel chassis.
R.A.F. Mobile Jib Crane
This R.A.F. Jib crane released in 1962 is similar in specifications and construction to the above Super Jib Crane but fitted with R.A.F. decals .
| | | |
| --- | --- | --- |
| | | |
| | | |
Kryn and Lahy JONES Steel works
Kryn and Lahy Jones were two Belgium refugees from WW I, who build a steel works factory in Letchworth.(U.K.)

They built the famous Jones KL 44 cranes.

These Jones Cranes also played an invaluable part in the war, producing over 1000 mobile cranes.

These were used in many international locations including unloading the first barge to land on the beaches at Arromanches, Normandy on D-Day. To meet the demand for cranes needed for D-Day, Jones produced 180 cranes in just 25 weeks.

The picture shows a Jones Crane Barge at Arromanches, Normandy, D-Day 1944
Tri-ang Jones KL 44 Cranes
As a keepsake to Kryn and Lahy Jones, Tri-ang released the KL Cranes. This Jones KL44 was Tri-ang's the most successful crane . It was sold in three variations.
With a bucket, with a Priestman grab and one with an electro magnetic grab with a battery box with an on and off switch.
Tri-ang Jones KL 44 with an electro magnetic grab.
Thank's to an Australian collector, Pete Willing, I can show you photo's of this remarkable crane. In all the years I'm collecting Tri-ang vehicles, I had never seen this crane.
The grab is operating from a switch on a battery box at the rear. It houses 2 standard batteries.
| | | |
| --- | --- | --- |
| | | |
Tri-ang Jones KL 44 with bucket or Priestman grab.
All Jones cranes have a slewing jib unit with a ratchet controls for the jib elevation and hoisting gear. The crane was supplied with weather a bucket or a Priestman grab.
| | | |
| --- | --- | --- |
| | | |
| | | |
The KL Jones crane was also produced in Tri-ang's New Zealand factory.
The below pictures came from Gavin and Cathy Dann, enthousiast Tri-ang collectors in New Zealand.
Thank you for the pictures!
On the bottom of the chassis there is a decal with this text:
- A model of the 4 ton JONES MOBILE CRANE made by K&L STEELFOUNDERS & ENGINEERS LTD of Letchworth, England, makers of the world's
BEST MOBILE CRANES which are distributed in Great Britain by GEORGE COHEN SONS & CO LTD.
The Priestman grab was separate sold for the Jones Crane. It is very collectable and hard to find!
We have a diagram how this grab operates. To contact us: click here
A Jones KL 44 crane used 2 strings.

If you don't know how to fit these strings, just sent us an email.

We have a simple diagram we can mail you.

To contact us: click here

Collector Jeremy Dearn found out what kind of string this crane had when it was new

It is cobbler's twine (waxed, I think).

That is the type of string used by shoe makers to sew the sole on to the upper. ( thank you Dearn)

FINALLY: a replacement hook is available here:
DOCKCRANE
In 1962 Tri-ang released a giant free-standing Triang Dockside Crane this impressive model crane stands approximately 120cm tall, red cab and counterweight container, blue jib and stand, black bucket, with additional cradle , a lifting platform and a sling . Hard to find with these accessories
| | | |
| --- | --- | --- |
| | | |
| | | |
In the contractors Equipment series Tri-ang released in 1962 several new models like an

Earthauler, a High lift Loader , a Rocker Dump and a Road Grader.

Non of these vehicles were and are very popular in Europe and the U.S.A.

In Australia and New Zealand however they were very populair , problably due to the climate the children Down Under could play outside the year around..
| | | |
| --- | --- | --- |
| | | |
| | | |
| | | |